BOOK: Think Outside the Box
The CIA of Blended Learning and 10+ Designs for Secondary Schools 
I've spent the last year accumulating and assembling program advise and deployment designs for secondary schools into a new book. I've gathered these words of wisdom, (nearly twenty years' worth in the digital learning front) from working with hundreds of schools and thousands of classroom teachers in Nevada's Clark County School District, the fifth largest in the nation. Below are a few excerpts from my new book titled: Think Outside the Box: The CIA of Blended Learning and 10+ Designs for Secondary Schools.
Introduction
Having access to digital content creates scenarios that you may have not even considered. Thinking outside the box allows us to see beyond the most obvious. Thinking outside the box opens doors to new prospects. Thinking outside the box forces us to be innovative. That is why this book is titled think outside the box. Boxes come in all sizes; from the student information system in your district, to the four walls of a classroom, or even the socio-economic classification one was raised in. It's a reminder to all of us that boxes do not define our limitations.
Not only will schools of the future need to think outside the box, they must think differently about the relationships of curriculum, instruction, and assessment (CIA). In blended and personalized learning, that's:
Digital Curriculum
Guided Instruction
Authentic Assessment
Part 1 – Foundations of Blended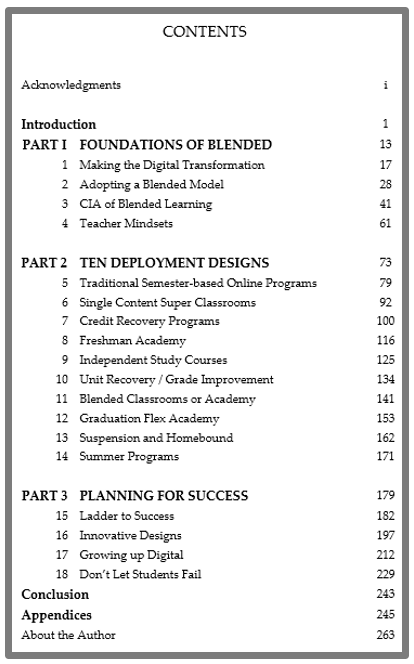 I believe the power of technology lies in digital curriculum. It has the potential to open the doors to a brighter future, help fill gaps, and provide more time for deeper learning. It puts the student in the driver's seat, one that is personalized for their individual needs by allowing them to rewind, replay, and own their learning. Teachers are afforded more time to differentiate with immediate data to rectify and stretch student learning in the moment. Yet, the question lies in how do we prepare staff for the change in pedagogy. Blended learning requires teachers to share the stage with digital courseware and empowers students to take ownership in their own learning. In this section we tackle this change process, the CIA of blended learning, and teacher mindsets.
Part 2- Ten Design Deployments
All too often schools are so busy seeking solutions to problems, like credit recovery, they don't see the forest among the trees. We get into the mode of problem – solution, fixed it, move on. When the next problem arises, we go seeking another solution. It becomes a one-to-one problem-solution narrow focus. Rather than looking from a one-to-one relationship, consider the options that a digital learning solution can offer. Think beyond the single problem at hand, consider the many opportunities or hurdles that can be tackled with digital content. These ten design deployments demonstrate how to reach more students with a single courseware product.
Part 3 – Planning for Success
Innovative designs in the final chapters will get you thinking about novel and pioneering options. I always caution schools to "go slow, to go fast." Make sure you lay down a solid foundation, using the seven steps to success, then find something small, that can be fine-tuned before pushing full steam ahead. Knowing where and what you want to do, before turning onto a speeding highway is always best. Casting a vision and having a one-, three-, and five-year plan will keep you from biting off more than you can chew. Teacher mindset will be key to any program deployment. Helping staff embrace the CIA of blended learning will ensure that students are not left alone to learn in isolation.
Conclusion
I've had the great fortune to work in a very large school district, allowing me to see a multitude of deployments, working with numerous schools to design and deploy digital learning environments. This book is filled with their stories. It has been my pleasure to compile and catalog them here for others to ponder and consider. Thanks to all the administrators and teachers for asking the tough questions. For making me think outside the box.
See Amazon for book: Think Outside the Box: The CIA of Blended Learning and 10+ Designs for Secondary Schools.
---
MEDIA
---
Webinar: Making It Count: Finishing the Year with Success (April 2020) Sponsored by Apex Learning
Speaker: Kim Loomis, CEO i3DigitalPD
Every state and every district is approaching school closures differently. While some are moving students to a remote learning environment for the remainder of the school year, others are taking mid-March grades and passing or failing students for the semester based on that information. Regardless of the approach, educators must consider how to help students cover? essential standards and be prepared for what's next. In this webinar, education (online learning?) expert Kim Loomis discusses how to tackle the essentials to help students finish the year with success. She will share best practices for recognizing the needs of the student, helping them adapt to the online environment, and preparing them for what's next whether that college or entering the next grade.
---
Podcast Interview – Opportunity Thrives: Blended Teachers and Technology to Help Students Thrive (October 2019) Sponsored by Apex Learning
First episode of Opportunity Thrives, Kim Loomis, the former Director of Digital Learning at Nevada's Clark County School District, the 5th largest district in the nation, shares her strategies for how, when and where to support struggling students and make the biggest impact using digital curriculum.
Today, Kim is the CEO of i3DigitalPD, helping educators across the nation to grow high quality digital learning programs. She recently authored, Think Outside the Box, a book that highlights hundreds of schools and thousands of classroom teachers in Nevada's Clark County School District and their unique approaches to implementing digital curriculum to support struggling learners. Check out the first episode and don't forgot to subscribe: https://opportunitythrives.com.
---
Blog Interview – Innovators in Online Learning: Kim Loomis, Clark County School District in Nevada (October 2017) By Softchalk Talk Blog
Interview questions:
You had a goal of having a third of your 320,000 students in an online or blended learning environment by 2015 and when we last checked-in, CCSD had exceeded that goal. Where are you now in terms of online/blended enrollment?
How have your online/blended course offerings expanded in the last 18 months?
You utilize Subject Matter Experts (SMEs) for creating the content you distribute, reviewers to make sure the content meets Nevada Academic Content Standards (NVACS) and project coordinators to make sure everything is organized and properly distributed – how has this curriculum design team evolved over the past few years?
For those who may be unfamiliar, describe how you created your schema and why you felt this was the best approach in planning out and organizing your content.
I imagine that there has been an audit of sorts for both the curriculum and processes since implementation – what have been the biggest successes you've seen from these overall reviews?
What challenges or areas for improvement have these reviews brought to light and how have you addressed them?
You integrated a lot of technology into this program to make it comprehensive and modern but, as we all know, technology is an ever-changing market – especially in education – how have you kept up?
Since implementation, what has the response been from on-the-ground teachers utilizing the curriculum for their classrooms (blended or online)?
What about students? What new doors or opportunities have opened for them with this increased flexibility and access?
For other schools looking to implement an online or blended program at their school, what advice do you have for them as to how to begin?
What's next for CCSD?
What inspires you?
---
Podcast – Episode 173: Kim Loomis, Director of Online & Blended Learning at Clark County School District (August 2017) by Michigan Virtual Learning Research Institute Learning
Interview questions:
Before we get started, can you provide us with some high-level details about your District? Size, student served, teacher/other employees served
Can you tell us about the District Virtual School? When and how did that get started? What kind of structures are is in place there?
And can talk about how that program eventually grew and evolved based upon your District's goals?
Can you tell us about the work that your team does around district-developed courses?
And can you provide us with some details around the online/blended teacher certification program?
Lastly, can you tell us where folks might go to learn more about the work that CCSD is doing around online and blended learning?
---
Podcast – Episode 173: Kim Loomis, Clark County School District, Nevada (March 2017) by Meet Education Project
Interview questions:
Talk about the guest's journey
Share your current work, and the problem you've been trying to solve with your work.
Most achievers have a close relationship to failure. Can you let the audience in on a failure you experienced, and how you (and the company) have been able to grow from it?
What gets you most excited about the future of learning?
What gets you most frustrated about the future of learning?
Rapid fire questions:

What is the book that most influenced you and why? Does not have to be education related.
Favorite documentary?
If you could have dinner with one person you admire, past or present, who would it be and why?
How can our audience support you through social media
---
 Quote: K12 School Leaders Forecast top 2017 Trends (January 2017) from District Administrator
Kim Loomis, Clark County School District
"The movement to meet individual student needs will force classroom to change from grade or age -based, to needs-based. Technology already allows for student to remediate and accelerate while sitting next to each other. This will expand classrooms to "WIN" arenas. "What I Need" (WIN) learning environments are starting in small pockets and will gain traction."
---
Webinar – The Next Generation Blended Classroom: Increasing Achievement in Middle and High Schools (February 2016) Moderator District Administrator, Sponsored by Apex Learning
Speakers: Tom Vander Ark, CEO, Getting Smart and Kim Loomis, Director of Innovation, Clark County (NV) School District
Blended learning is having a positive impact in schools and districts across the country, but there are a number of key strategies that can advance blended learning to its next generation of even greater effectiveness and improved achievement. In this webinar to learn from Tom Vander Ark, CEO of Getting Smart, the latest trends and best practices in blended learning, and Kim Clark, Director of Innovation for the Clark County School District in Nevada, who will share her experience successfully launching blended learning in her district.
Topics include:
The important role of the educator in school design to ensure successful implementation of blended learning
The elements of product design that ensure the technology allows for a personalized learning approach
The key components of instructional design that focus on active learning to empower all learners to succeed
---
Article – 10 Digital Learning Models in Clark County Schools: Kim Loomis' presentation summarized (February 2016)  Getting Smart blog by Tom Vander Ark
Clark County School District, fifth largest in the country, educates more than 320,000 students in 356 schools. At a recent Apex Learning seminar Kim Loomis, Innovative Projects Coordinator, outlined 10 of the digital learning models they use in CCSD.
---
Webinar – Blended Learning: What It Takes to Do It Right  – Speaker: Kim Loomis, Clark County School District (May 2015) Moderator District Administrator (Article), Sponsored by Canvas Learning System
At the Clark County School District in Nevada, administrators plan to transition 100,000 students—one third of the student body—into an online or blended learning environment by the 2015-2016 school year. Listen to this web seminar to learn strategies from Clark County's innovative projects coordinator about the keys to implementing blended learning from an administrator's perspective, the most predominant implementation models, and a practical 4-step approach to creating a successful blended learning environment in any district.